The Land Of 1000 Islands – Croatia
There are many beautiful places where you can travel for holiday but none of these is as unique as Croatia, the land of 1000 islands. Croatia has vast history, beautiful beaches, cheap accommodation and a spectacular nightlife that will definitely leave you mesmerized. No matter the purpose of your visit, Croatia will always have something to offer as more than 1000 islands and islets dotting its expansive water body in addition to thousands of kilometers of a coastline provide for the best experiences that you can ever have. There are many activities to engage in including sailing, diving, sun bathing, swimming, skiing, parasailing, banana boating and sea kayaking among others.
Most of Croatia's islands are uninhabited thus offering the best sanctuary especially to nature lovers seeking for an unadulterated lifestyle and beaches. In addition to the many islands, the European country also enjoys sunny weather for the greatest part of the year and the Adriatic Sea surrounding it is crystal clear, making it the perfect place to go on a Adriatic Sea cruise and experience the best of what Croatia has to offer. The islands stretch from Croatia's northern region to the southern part with the beautiful national park of Brijuni archipelago being a major attraction. From there you can sail to Krk and Cres, which are the first and second largest islands in Croatia.
These northern islands are ideal if you are looking for the traditional Dalmatian lifestyle as well as a taste of preserved nature. You can explore the expansive, beautiful islands by simply laying down on the beaches or sit in one of the beautiful cafes lining up the coastlines. There is cheap accommodation in the different islands, from where you can stay and make your sailing exploration easy. In addition, you can rent a boat in Croatia for your island hopping adventure or travel in the scheduled ferries for a bit of an experience.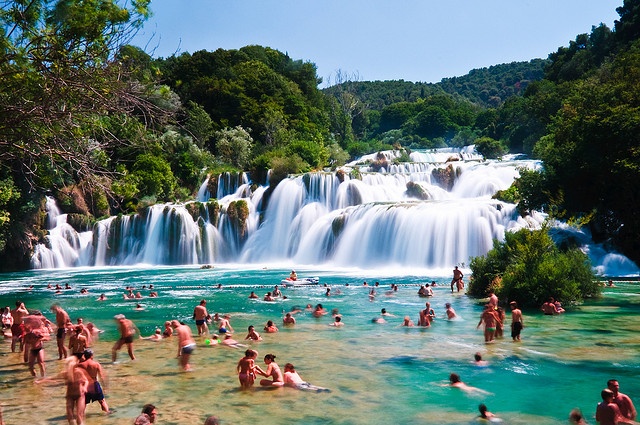 As you travel south, you will find Zadar archipelago which is near the primeval town of Zadar. This beautiful archipelago is home to hundreds of islets and small islands with Kornati islands being some of the most notable here. You can charter a boat to help with your sailing experience thus making it easy to explore the different islands with ease. This is always a great opportunity to visit the heart-shaped Galesnjak Island, which is absolutely romantic especially if you are here for honeymoon. The over 130 Kornati islands provide adventurers with endless possibilities to sample the beauty of Croatia and enjoy magical moments any time.
If you thought that was all, then you are in for more surprises. There are other major tourist attractions near Dubrovnik and Split towns. This southern past has paradises that are more fantastic and you should brace yourself for Croatia's most magnificent locations with beautiful islands of Hvar, Korcula and Mljet waiting ready for your exploration experience. Korcula is the birthplace of Marco Polo, the famous explorer, and always a great place for sailing. You can also visit the dazzling Lastovo Island. There is a mix of untouched nature offered by the islands as well as the cities which are rich in history thus providing visitors with a good dilemma as they choose where to go. Always take your camera with you as you visit the beautiful islands to help you carry some memories with you.
The Croatian islands offer a picturesque experience that has become an annual attraction to millions of holidaymakers who cannot have enough of the place. When it comes to a holiday in Croatia, the problem will always be time. Otherwise, there is enough attraction to keep you on your feet forever.